Looks like it worked, the image URL worked on my gmail account.
BTW, that photo is of our neighborhood Cooper's hawk.
Mike Nolan
The only photo I see is a guy with gray hair and "Nolan " next to it
AOL might be intercepting the image URL, Harry. It was visible on my gmail account for the lead post in this topic.
Here's another image (of a Crenshaw melon, just so you don't think my hair, what's left of it, has turned back to yellow):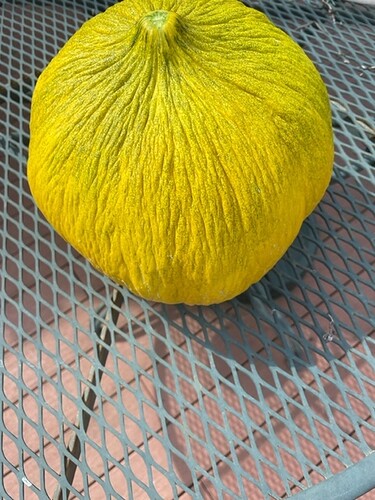 Discourse has a chat/channel feature, might be useful on game days, we'll have to find a time to play with it. I think it has some similarities with Slack channels.
I saw both the wine restaurant(Coopers Hawk) and the melon via gmail. Cooper's Hawk just opened by us in one of the most wasteful transactions. Uncle Julio's built a restaurant that opened in early 2020. It closed for covid and never re-opened. It was then bought and renovated by Coopers Hawk and just opened in February of this year. I can't imagine the bath Uncle Julios took.
To bring it back to Northwestern today is the 50th anniversary of the first cellphone call.
https://www.bbc.com/news/technology-65112048
On 3 April 1973, Marty Cooper stood on a corner of Sixth Avenue in New York and took a phone book from his pocket.
He then punched a number into a large, cream-coloured device and put it to his ear while passers-by stared at him.
Mr Cooper, an engineer at Motorola, rang his counterpart at rival firm Bell Laboratories, to triumphantly tell him he was calling from "a personal, handheld, portable cell phone".
…
The commercial version of Marty Cooper's prototype, the Motorola Dynatac 8000X, was released 11 years after that first call, in 1984. It would cost the equivalent of £9,500 ($11,700) if bought today
Maureen opened the Harvard factory in 1996 – literally as she supervised a line in the temporary facility and was one of the first lines to build in the new facility. Harvard was the small hometown of the Galvin brothers who were the founders of Motorola. It is the end of the train line and has less than 10,000 population yet the factory was supposed to have 3,000 employees. There are few nearby towns of any population so Waukegan and Rockford were where most of the workers came from which is nearly 1 hour drive from the east and west respectively.
She produced StarTACs which was the first mobile phone to have widespread adoption with 60 million units sold. It also is regarded as #6 of the top gadgets over the past 50 years(1955-2005). Unfortunately it was also the last hurrah of Motorola as it was analog. Motorola was so committed to analog they fought hard against the digital revolution.
https://en.wikipedia.org/wiki/Motorola_StarTAC
You can see the abandoned Harvard factory
https://www.google.com/maps/place/Harvard,+IL+60033/@42.4408061,-88.6061991,1023m/data=!3m1!1e3!4m6!3m5!1s0x880f5a8eaab067a3:0xaf1c05f2a8dc62c6!8m2!3d42.422241!4d-88.6137101!16zL20vMHNkMG0
There was talk about turning it into a water park or even a prison, but it is still abandoned.
Maureen left Motorola in 1999 and the facility closed in 2002. The state of Illinois sunk $35 million into the facility – Ouch, for 5-ish years!
Len Williams the QB during our tenure at Northwestern interviewed with Maureen in Harvard. He was hired and I believe is still employed with them, but obviously not at that location.
Some of the image issues (and other issues that either have already cropped up or are yet to be reported) are likely to be ones that can't be easily dealt with for email readers because they're happening after the email leaves my servers.
Ideally, subscribers will decide the online format is easier to use, more immediate and more fun, especially if we start using the channel option for real-time discussions.
There's also an option in discourse to have discourse send you the emails directly rather than have them relayed through the old listserver, I don't know if it is more successful at sending images to sites that are creating problems with them.
At least one email blockage (at AT&T/sbgcglobal/prodigy) has been reported and I've got a workaround in place while I wait for AT&T to process a whitelist request. (Sometimes that takes months.)